BROOKE A. SCELZA, PHD.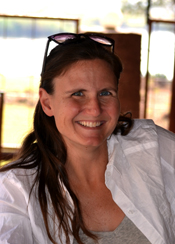 Assistant Professor, Department of Anthropology
Tools and Techniques: Anthropometric measurements, life history interviews, vignette studies behavioral observation.
Website: http://www.sscnet.ucla.edu/anthro/faculty/bscelza/Brooke_A._Scelza/Home.html
Email: bscelza@anthro.ucla.edu
Interests: reproductive decision-making, life history theory, kinship, social support
Personal Statement:
I am a human behavioral ecologist interested in understanding the adaptive nature of behavior as a function of local socioecological context. I currently conduct fieldwork in northwest Namibia with a traditional group of cattle-herders called the Himba. My work focuses mainly on how interpersonal relationships affect health and reproduction. I am particularly interested in the relationships that children maintain with their parents once they reach maturity. I also work with data collected as part of the Puerto Rican Maternal and Infant Health Study (PRMIHS), looking at the role of social support and mother-daughter bonds on infant mortality, child health and women's reproductive decisions.