ERIC VILAIN, M.D., PH.D.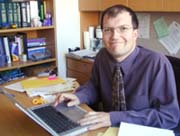 Professor of Human Genetics, Pediatrics and Urology; Director, Institute for Society and Genetics
Tools and Techniques: Genomics, next-generation sequencing, cell biology, molecular biology
Website: http://www.genetics.ucla.edu/gendercenter
Email: evilain@ucla.edu
Telephone: (310) 267-2455
Interests: Sex differences, Biology of sexual development, Sexual orientation, gender identity, Genomics
Personal Statement:
Dr. Vilain's laboratory investigates the development of sexual differences, both at the anatomic/functional level as well as the behavioral one. Research models includes individuals born with intersex conditions (disorders of sex development), individuals with variants of sexual behavior and gender identity and animal models of intersexuality.